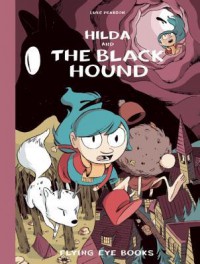 I'm now two weeks into the New Year, and I tell you, I have been reading comics!
I fried my brain on about 13 volumes of a shoujo manga that I'll discuss later, I read the beginning of a shounen manga that I just couldn't keep my interest in and revisited a delightful children's comic that's the topic of this post...
I read Hilda and the Troll last year and loved the art, the spunkiness of Hilda and her love of adventures and spending time camped out on the front lawn in the rain, nothing between her and the cold damp but a thin layer of canvas.
This year I've picked another of Luke Pearson's delightful Hildafolk series, Hilda and the Black Hound. The comic deals when Hilda's mom decides to sign Hilda up for the Sparrow Scouts when she finds that Hilda hasn't left the tent she's set up, this time in her bedroom, for a week.
However, Hilda's attentions are distracted by two things. First is a Nisse she's trying to help find a new home and secondly, a black shadow that she's been seeing skulking about Trolberg. Despite the distractions Hilda attempts to match her mom's badge earning record from back when she was a star Sparrow Scout.
Both Hilda and her mother learn some valuable lessons in this humorous and heartfelt tale.
This series reminds me a bit of the Moomins combined with a small dash Tintin. Sure, there are no guns, spies or conspiracies involved in Hilda's adventures, but there is still adventure, sometimes treasures to be found, and not a little action. Hilda is a plucky and curious kid and accompanied by Twig, her companion, she's always ready for excitement.